Atlanta International Airport Hotel Bookings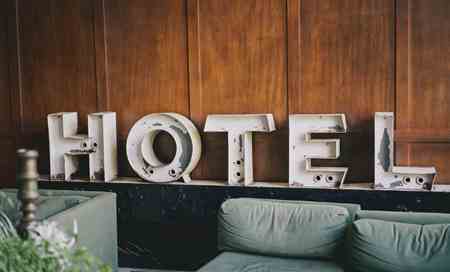 Once you arrive at Atlanta airport, you'll want to find a great place to stay. If you get there late at night or have an overnight layover there, you may want to stay close to the airport. Within 5 miles (8 kilometers) of the airport, there are a range of hotels to suit all budgets and needs. There are also a vast range of hotels in the city itself, if you are holidaying in Atlanta or would like to experience the city's attractions and nightlife.
Hotels within 5 miles (8 kilometers) of Atlanta airport
Best budget option – Red Roof PLUS+ & Suites College Park – ATL Airport
US$82 - US$103 nightly average
2.7 miles (4.3 kilometers) from ATL Airport
4.0 Stars on TripAdvisor
Boasting a location close to numerous attractions such as the Georgia Aquarium, Zoo Atlanta and the Martin Luther King Jr. National Historical Park, Red Roof PLUS+ is an ideal choice for those travelling on a budget. This highly rated economy hotel boasts free WiFi, a great free breakfast for all guests and an onsite fitness facility. You can also park your car for free there, which is a great way to save money if you choose to hire a car with one of the providers mentioned in our car hire section. If you choose to upgrade to one of their Premium rooms, they will even have a snack ready for you in your room, for when you arrive. If you're travelling with your pet, this is the perfect hotel for you, as it is completely pet-friendly.
Red Roof PLUS+ & Suites College Park is located just off of I-85 and I-285, in College Park, GA. They offer a free airport shuttle (from 5 AM until 11 PM), meaning that you don't need to worry about getting there from ATL via a taxi or public transport.
Mid-range choice – Holiday Inn & Suites Atlanta Airport – North
US$104 - US$223 nightly average
1.5 miles (2.4 km) from Atlanta Airport
4.0 Stars on TripAdvisor
Holiday Inn & Suites Atlanta Airport North is an advanced, modern and highly stylized concept hotel. It brings a nuanced and unique approach to the hotel market at Atlanta Airport. Having an outdoor pool and a full 24-hour fitness center, this hotel is the ultimate experience for today's holidaymaker. After recently being modernised, The Holiday Inn & Suites Atlanta Airport North are now presenting over 300 new luxury rooms, including almost 150 suites which provide incomparable comfort, class and connectivity. This hotel boasts a business center, restaurant, bar and market pantry.
This highly-rated and innovative home away from home is designed around fusing modern technology with world-class service. If you travel to Atlanta for a meeting, the business center here is a great place to have it. There is a total of 15 meeting rooms, and a Ballroom with a neighbouring function space, which totals 12,000 square feet. Holiday Inn's catering concept 'Food with Latitude', goes much further than the banquet room, being inspired by the cities and people of the 29th Parallel. A number of flexible options are available for meetings, depending on their length and your needs.
High-End Option: Atlanta Airport Marriott Gateway
$114 - $355 nightly average
1.6 miles from ATL
4.5 Stars on TripAdvisor
Experience Atlanta Airport Marriott Gateway, Atlanta's Silver LEED-certified hotel. Atlanta Airport Marriott Gateway is only a 2-minute free ride away from ATL using the SkyTrain. Being one of the highest-ranking hotels at Atlanta Airport and beyond, Marriott Gateway is home to more than 400 guest rooms and hotel suites. These have windows that are entirely soundproof, iHome gadgets and expansive work areas.
Having a total meeting space of over 21,000 square feet, Marriott Gateway is the perfect place to have meetings or functions. Whether you're travelling for a family reunion, a corporate function or have a layover in Atlanta, Marriott Gateway has got you covered.
In Atlanta City Center
$116 - $324 nightly average
>0.3 miles from Ponce City Market
5.0 Stars on TripAdvisor
At the cross-section of Downtown Atlanta, Midtown and the historic Old Fourth Ward, Hotel Clermont offers classy, boutique hotel experience. There are 94 rooms there, all of which offer full service, and with the eateries and bars located there, you simply won't want to leave. These include Tiny Lou's French-American brasserie, a cocktail lounge and café and a bar on the rooftop with stunning cityscape views and street food to taste.
Hotel Clermont is one on its own, but also represents Atlanta itself – how it was born from the ashes and is brimming with multiculturalism and steeped in history. Since its establishment in the mid-1920s, Hotel Clermont has always been, and still is, a collective melting pot. The amenities here include their lobby and rooftop bars, cafés and restaurants, the lounge, fast and free WiFi, plenty of buzzing communal spaces and a fitness studio. Hotel Clermont is also a pet-friendly space.
SpringHill Suites Atlanta Downtown
$76 - $347
>0.3 miles from Georgia Aquarium
4.5 Stars on TripAdvisor
SpringHill Suites Atlanta Downtown is a wonderful choice for tourists to Atlanta, who will enjoy its modern environment enhanced with many useful amenities to make your stay truly special. Having the Centennial Olympic Park (0.2 mi) and The Tabernacle (0.5 mi) on its doorstep, guests at this hotel can almost stumble out of bed and right into one of Atlanta's best-known attractions. Also within walking distance of the hotel are must-see attractions such as the Fox Theater (0.8 mi) and the Center for Civil and Human Rights (0.1 mi).
All rooms offer air conditioning and free WiFi, so that you can stay connected with friends and family at home. You can spend some time in the free fitness center provided there, after enjoying the free breakfast, of course. If you have chosen to hire a car with one of the suppliers mentioned in our car rental index, you'll be able to park it here without a problem. It is these perks that have made SpringHill Suites such a popular choice in Downtown Atlanta.
Recommended Hotels Near to Atlanta Airport
Find Hotels near to Atlanta Airport
Frequently Asked Questions - Atlanta Airport Hotels