Train Transfers To and From Atlanta Airport



Atlanta International Airport Train Transfers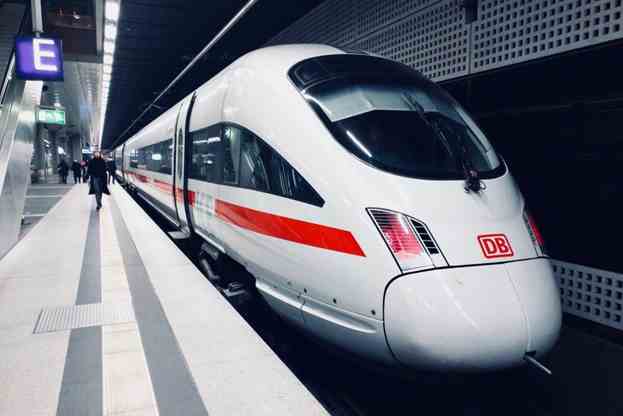 Another great option for travelling to and from Atlanta airport is to take a train. Perhaps the most widely known and highly acclaimed train service serving Atlanta, Georgia is MARTA. Taking it to or from the busiest airport on planet Earth is not only a fantastically convenient service, but also a great experience to check off of your holiday to-do list. Not only is travelling with MARTA great for your budget, but it's also great for saving time, given that it's the most efficient, traffic-free way of travelling.
To get to Atlanta airport on MARTA, you can take a Southbound Red or Gold Line train, both of which travel directly there. Alternatively, if you are travelling via the Blue or Green line, simply transfer at the Five Points station and go to the Southbound platform. There are many options to get to a MARTA train station: you can take a bus, grab an Uber, Lyft or local taxi or drive to the station and park your car there overnight. Once you get there, you can use the vending machines to purchase your fare, if you need to.
If you're landing at ATL and want to take MARTA to Downtown Atlanta or elsewhere, then the process is also simple. First, follow the directions to the baggage claim. Then, after collecting your baggage, head into the Rail Station from either the North or South Terminal. After this, buy or reload your Breeze Card, or alternatively get a paper ticket at a vending machine. All one-way single trips are $2.50. These are bought at vending machines by selecting 'trips'. Or, you can choose the 'day' option to purchase a day pass with unlimited rides. During business hours, you can also buy your ticket form an employee at RideStore. Once you have your ticket, you can board a train. All trains departing from ATL travel northbound to Downtown and Midtown Atlanta, so you can board any train. But if you're heading to Lenox, Brookhaven, Chamblee or Doraville, take one marked 'Doraville' instead.
Many Atlanta hotels are easily accessible by MARTA train, which can save you time through avoiding traffic and also save you money which would otherwise have been spent on a taxi or shuttle bus. If you take MARTA to Downtown Atlanta, you'll also avoid expensive parking fees and traffic, which can be especially heavy during big events. Downtown Atlanta has six MARTA stations, each of which have their own uses and benefits. Details of each station are below.
Peachtree Center Station
The Peachtree Center station is situated in the heart of the downtown business district. Nestled in the middle of restaurants, hotels and skyscrapers, it has a lively atmosphere. Being on the Red and Gold rail lines and next to a taxi rank, Peachtree Center provides direct service to and from ATL. From here it is possible to walk to some of the top attractions that Atlanta has to offer, including the Georgia Aquarium, SkyView and the Centennial Olympic Park. It is also possible to walk to the Mercedes-Benz Stadium and State Farm Arena from Peachtree Center, if you fancy more of a trek.
Dome/GWCC/State Farm Arena/CNN Station
The Dome/GWCC/State Farm Arena/CNN station is located next to a bunch of attractions and venues, such as the State Farm Arena, Mercedes-Benz Stadium and Centennial Olympic Park. There are some beautiful hotels nearby where you can choose to stay, which are situated near a park, so have more of a rural feel. These include Hilton Garden Inn, Glenn Hotel and Omni Hotel.
This station is located on the Blue and Green rail lines, so you'll need to transfer at the Five Points MARTA station if you travel here from ATL. But after transferring, you'll only need to travel for one stop.
Civic Center Station
This station is on the border of Downtown and Midtown Atlanta, and is famous for being both underground and above an interstate. Trains travel to and from ATL from the Civic Center, so you don't need to transfer. If you're planning to go to the National Center for Civil and Human Rights or the Shakespeare Tavern, exit here.
Georgia State Station
This station is one of the safest in Atlanta, and is on the Green and Blue lines. Many historic buildings are located nearby, as well as Masquerade music venue and the Sweet Auburn Curb Market. Although this isn't a hotel hotspot, it's a great station for sightseeing or going to events.
Five Points Station
This central station is the center of the railway service in Atlanta, connecting all rail lines and many bus routes. If you need to change trains, collect a transport schedule or visit the lost and found office, you'll do it here. The Fresh Market is also nearby, which is open on Friday afternoons. However, this isn't the best station for taking a stroll from, as the local area is very much under development. Once complete, a modern, stylised area around the station will be unveiled.
Garnett Station
Garnett Station is slightly south of Five Points, next to the Greyhound bus station. Again, many development projects are ongoing here, so it's not particularly one to visit but is definitely one to watch!