ATLANTA AIRPORT (ATL) INFORMATION
Origin
Airline
Flight no.
Scheduled
Est./Actual
Status
No flight arrivals were found at Atlanta Airport.
Destination
Airline
Flight no.
Scheduled
Est./Actual
Status
No flight departures were found at Atlanta Airport.
Car Hire at Atlanta Airport
UNBEATABLE VALUE CAR RENTAL
Free Amendments | Free Cancellations | No Card Fees




Atlanta Airport - All Information on Atlanta Airport (ATL) Atlanta Airport
Department of Aviation P.O. Box 20509, Atlanta, GA 30320
phone +1 800 897-1910
phone+1 404 530-2148 (Lost + Found)
emaillost@aatc.org (Lost+Found)
Facts and History about Atlanta Airport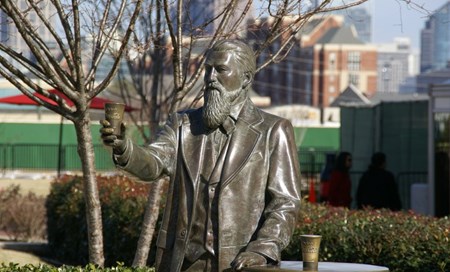 Hartsfield–Jackson Atlanta International Airport (IATA: ATL, ICAO: KATL) is situated 7 miles (9 kilometers) south of Downtown Atlanta. It is also known as Atlanta Airport, Hartsfield and Hartsfield-Jackson), with its local name being Atlanta Airport. ATL is the main international airport for Atlanta, Georgia.
ATL has held the record for 'busiest airport in the world' since 1998. It serves 150 destinations in the USA and over 75 destinations internationally, across 50 countries.
Arrivals, Departures and Airlines at Atlanta Airport
Location
Atlanta Airport serves Atlanta, the capital of the state of Georgia in the USA. The address of the airport is as follows: 6000 North Terminal Parkway, Suite 4000, Atlanta, GA 30320. Or, the latitude and longitude of ATL are 33° 38′ 12″ North / 84° 25′ 41″ West. It is elevated 1,026 feet (313 meters) above sea level.
Terminal Area at Atlanta Airport
The terminal area at ATL is 156.1 acres (6.8 million square feet). It is home to all flight terminals and the T, A, B, C, D, E and F concourses. At present, ATL has 2 terminals, 5 runways and 192 gates. 152 of these gates are domestic, while the other 40 are international.
Accessibility at Atlanta Airport
In terms of accessibility, this airport is highly disability-friendly, posing no barriers to wheelchair-users or other disabled people.
Smoking Areas at Atlanta Airport
The new smoking ban came into place on January 2, 2020. This will mean that passengers flying into ATL can smoke after exiting security, and passengers flying out from ATL can smoke before entering security, outside of airport premises. See comprehensive information about smoking/vaping at or near the airport
Local Plug Types and Voltage
To charge your phone or laptop in Atlanta, an A or B type plug (2-pin or 3-pin) is needed. The voltage is 120 V, or 60 Hz. It is important to make sure that any devices and leads are suitable and comply with this voltage.
Travelling around the Airport
'The Plane Train' is ATL's own quick and easy airport metro system. It connects the concourses with all terminals and is made of eleven trains with four cars each. These run on a 3-mile circuit and arrive roughly every two minutes. The trains carry over 200,000 passengers every day.
Car Hire at Atlanta Airport
When renting a car at Atlanta Airport, there are many companies to choose from. You can find more details for each of these on our car rental page. It is important to note that cars are driven on the right-hand side of the road in Atlanta, Georgia, as is the case elsewhere in the USA. In order to drive in Georgia, an IDP may be required by your hire company. Be sure this to check this before travelling, to arrive with the correct documents. At ATL, 13 different car hire brands are available, of which the main ones are Alamo, Avis, Budget, Dollar, Enterprise, Europcar, National, Sixt and Thrifty.
Lost and Found at Atlanta Airport
There is a lost and found help desk at ATL, which operates from 8:30 a.m. to 5:00 p.m. (Monday to Friday). They can be emailed at this address: lost@aatc.org. Alternatively, a lost item can be filed online here: https://live.nettracer.aero/aatc-paxview/lostandfound/landing.do
WiFi at Atlanta Airport
Atlanta Airport has free Wi-Fi for its guests to use on their devices.
Transportation Options to and from ATL
There are a wide array of different options for getting to and from ATL Airport. These include buses, taxis, shared-ride shuttles and vans, hotel shuttles, limousines and trains, as we explore in our Transportation Pages.
For buses, the best options are the MARTA bus service, as well as Southeastern Stages, Internacional Turimex, Red Coach and Greyhound. All of these operate from Atlanta Airport's on-site bus station. Another option is to take a shuttle, either provided by a private company or by your hotel.
In terms of taxis, there are many options including numerous taxi suppliers and also limousine companies. ATL Taxi Cabs and Taxi2Airport are two of the best companies for getting a cab, and there are over 300 limousine companies to consider.
If you'd prefer to get a train, the MARTA rail system has got you covered. The Red and Gold lines connect directly with ATL, but you are able to transfer to the Blue and Green lines to reach other parts of the city. Taking the train in Atlanta is a cost-effective and fast way to get around the city.
Attractions
Being the capital of Georgia, Atlanta has a huge scope of attractions to visit. For history buffs, the area in which Martin Luther King lived and campaigned is definitely a point of interest. For foodies, Ponce City Market is the place to go to get a taste of Atlanta. Families will love Georgia Aquarium, home to thousands of different sea creatures. Atlanta is also home to many locations from the Netflix top-hit, Stranger Things. If you're a fan, you'll be able to experience these locations first-hand on the Stranger Things walking tour. Arts lovers should definitely check out the Center for Puppetry Arts, which features many famous puppets including Kermit the Frog and Miss Piggy.
Hotels at Atlanta Airport
Hotels in Atlanta are varied enough to meet your needs, whatever your budget, length of stay and preference. We have selected three hotels closely connected to ATL, on a sliding scale. These are Red Roof PLUS+ & Suites College Park – ATL Airport, Holiday Inn & Suites Atlanta Airport – North and Atlanta Airport Marriott Gateway. We have also chosen two fantastic places to stay within the city itself, just a stone's throw away from Atlanta's top attractions: Hotel Clermont and SpringHill Suites Atlanta Downtown.
Parking at Atlanta Airport
See options for parking services at Atlanta Airport.
Additional Services and Amenities at Atlanta Airport
At Atlanta Airport you will find the usual array of bars and restaurants, airport lounges and shops.
Contact
You can contact ATL via their official website at http://www.atl.com/ or by calling +1 800 897-1910.
Services at Atlanta Airport
Useful Information about Atlanta Airport