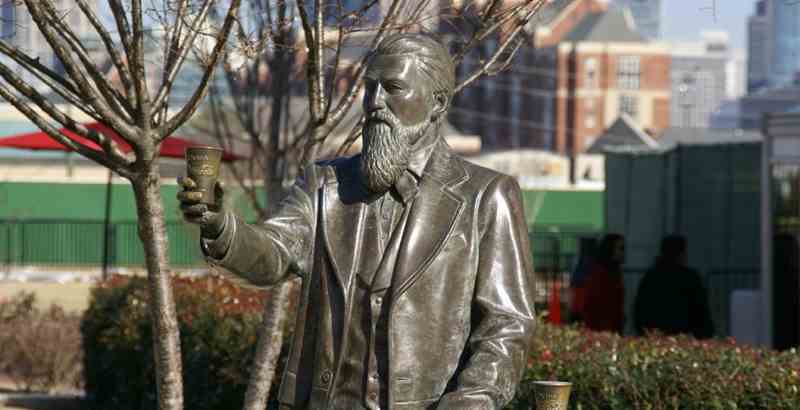 Atlanta Tourist Attractions
As the capital and most populated city in Georgia, Atlanta is home to a wide array of attractions for tourists to visit. From historically important areas such as that where the late Martin Luther King once walked, to Ponce city market, which has been named one of the greatest food halls in the entire U.S.A., there is really something for everyone in Atlanta. If you're travelling with the family, you can head over to Georgia Aquarium, home to thousands of different sea creatures. Or, if you are a TV and movie buff, you'll be able to join a Stranger Things walking tour and experience some of the most iconic locations from the series up close. Alternatively, if you're big on the arts, you'll love the Center for Puppetry Arts, which features many famous puppets including Kermit the Frog and Miss Piggy.
At Georgia Aquarium, you'll be able to view the fascinating dolphin and sea lion presentations. It is home to 7 different areas, which altogether hold over 10 million gallons of water. In these waters live thousands of sea creatures. There is also an interactive 4D theater, which is sure to impress. A day out at Georgia Aquarium is not only fun but also highly educational for children and adults alike, being packed with opportunities to learn about stingrays, whale sharks and more. You'll be able to watch these magnificent beings through giant windows or through the underwater tunnel which runs through the huge tank. Dolphin trainers will be on hand to inform you about these beautiful mammals and their behaviours.
In some of the zones at Georgia Aquarium, you'll be able to experience the life within the planet's coldest oceans with wildlife including the beluga whale, the giant Pacific octopus, the weedy sea dragon and the Japanese spider crab. You'll also meet the captivating California sea lions and will be able to discover one of the biggest living reef exhibitions in all aquariums on a global scale.
There are also of course a vast range of places to get some food or a drink there, or simply to relax and watch the oceanic world go by. Parking at Georgia Aquarium is fast and simple, as they have a parking garage which is connected to the main aquarium.
Center for Puppetry Arts, Worlds of Puppetry Museum
At the Global Collection, you'll be able to experience the history of puppeteering. This collection embraces the traditions of puppetry in cultures all over the World. In particular, the history of puppetry in the Americas, Europe, Asia and Africa are highlighted. You will learn about the traditional use of puppets as a tool for education and communication. The puppets in the Global Collection are organised by continent, and you'll see that the artifacts are put into context with rich and informative backdrops. Platforms for hands-on interaction here will encourage you to immerse yourself in Global puppetry traditions and to become a puppeteer yourself.
You'll be able to discover the interactive Collection displaying the work of Jim Henson, the artist behind The Muppets. Here you can follow Henson's incredible imagination through the timeline of his work, and experience the environments that shaped his world, such as his office and TV Studio. As well as learning about how his iconic characters were born, and are still performed today, you'll be able to see the iconic Kermit the Frog and Miss Piggy.
Ponce City Market 2.5-Hour Weekend Food Tour
As one of the best food halls in the entire U.S.A, Ponce City Market truly is a must see while in Atlanta. Located in a former distribution center for Sears and Roebuck, this market was developed by the same people who created Chelsea Market in New York. This indoor market, complete with air conditioning, is now full of award-winning restaurants owned by local people. Here you can taste the very best of Atlanta's street food, without the noise or heat of the street!
On a tour of Ponce City Market, you will enjoy tastings from a range of high-end eateries. For example, consider a cheeseburger where every single ingredient is made completely from scratch, including even the relishes. Here, this is possible and is brought to your palette by the award-winning chef, Linton Hopkins. You'll also try chef Hector Santiago's exquisite Cuban sandwich, served with yuca fries. If you're a spice field, you'll be glad to know that chicken tikka masala grilled on top of a naan, topped with slaw is also on the menu. Oprah's favourite gelato flavour, brown butter toffee is also part of this taste bud-tantalising tour. If that's not enough, anyone over 21 has the chance to top this all off with an alcohol-fueled slushy.
Not only is Ponce City market an adventure for your palette, but it's also a delight for historians. Many years ago, this area was completely covered in sulphuric springs. Being situated in the neighbourhood of the Old Fourth Ward, slightly northeast of Downtown Atlanta, the market remains the biggest brick structure in the entire south-eastern U.S.A. The tour also includes a 20 minute guided walking tour along Atlanta's Beltline East-side stretch, to discover and photograph the beautiful murals that line the way.
Upside Down Stranger Things 3.5-Hour Bus Tour
If you're a fan of Netflix's top-grossing series Stranger Things, look no further. This tour allows you to explore many of the show's most iconic locations in real life. It departs from Downtown Atlanta and takes you on a comfortable bus journey for a 3.5-hour adventure through the city. It focuses on the most prominent locations from in the show, particularly the parts of Atlanta city used for the Chicago scenes, and a selection of the major scenes in Hawkins, Indiana, which are filmed in the center of Atlanta.
You'll zigzag through the city, discovering Hopper's cabin, the pumpkin patch and the sheriff's station. More exciting still, you'll be able to hide from the Demogorgons in the portal to the Upside Down. Head to Benny's Burgers and hang out in the arcade. All of the time, you'll be collecting captivating trinkets of knowledge on the show from your guide, an insider with knowledge only available to a select few behind the scenes.
Martin Luther King Historic District Walking Tour
During this walking tour, you'll learn the history of Martin Luther King Jr. and the Civil Rights Movement in a personalised way, unlike anything you learnt in your history classes. You will be able to walk the same paths he walked, visit his workplaces, homes and places of worship. You can hear the stories of other civil rights leaders that intertwine with MLK's history, the movement itself and the story of Atlanta.
In the Ebenezer Baptist Church, you'll feel the past echoing around you as you stand in the place where MLK was once co-pastor with his father. Also experience Prince Hall Grand Lodge, which is where the SCLC had their headquarters in the 1960's. Be sure to bring your camera to capture the breath-taking views from the Jackson Street Bridge. You'll also be given a hand-drawn brochure exclusive to this tour and will leave with a rich understanding of Martin Luther King and the story of the life-changing Global revolution that he led.
UNBEATABLE VALUE CAR RENTAL

FREE
Amendments,
FREE
Cancellations,
NO
card fees!

airport_shuttle Need Airport Transfers?
Useful Information about Atlanta Airport