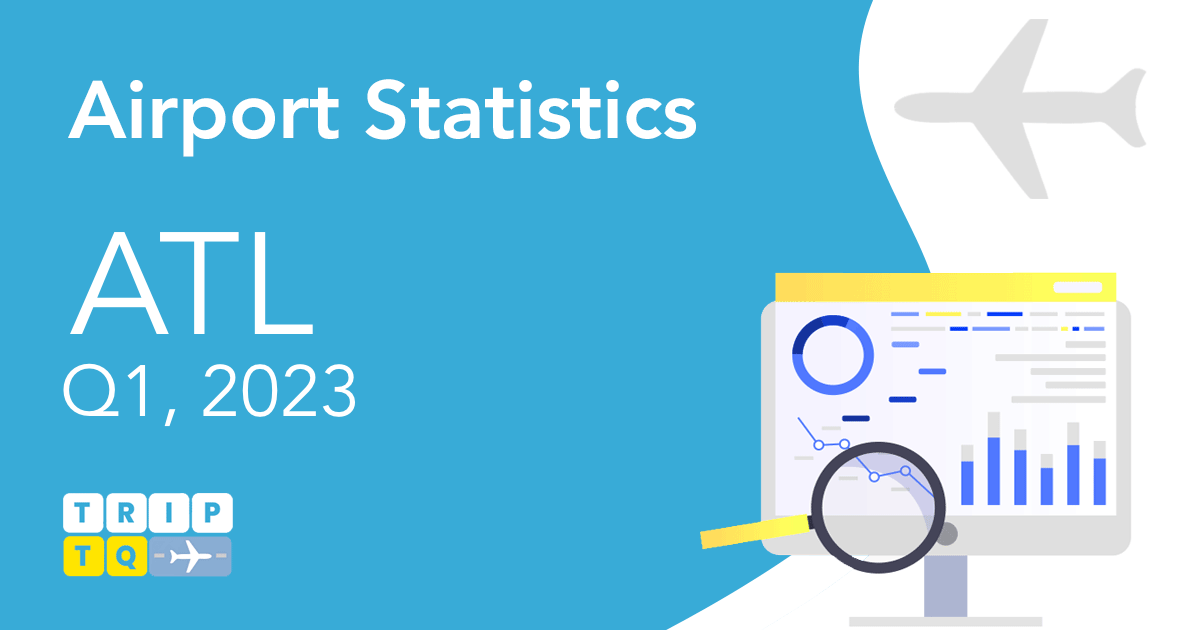 Record Q1 Passengers at Atlanta Airport as Numbers Increase 15% in 2023
Record Q1 Passengers at Atlanta Airport as Numbers Increased 15% in 2023 compared to the same period in 2022 and are up 110% against the same post-pandemic period in 2021. While these figures highlight the determination and rebounding strength, Atlanta Airport still faces the challenge of reaching the pre-pandemic passenger numbers it once recorded.
Hartsfield-Jackson Atlanta International Airport, commonly known as Atlanta Airport, is in Atlanta, Georgia, USA. It holds the distinction of being the world's busiest airport by passenger traffic and aircraft movements. It is a major hub for several airlines, including Delta Air Lines, which has its headquarters in Atlanta.
Over the years, it has undergone significant expansion and development to accommodate the growing demand for air travel. Today, it offers a wide range of amenities and services to ensure a pleasant experience for travelers. These include numerous dining options, duty-free shops, lounges, spas, and even an art program that showcases works of local and international artists throughout the airport.
In addition to its passenger services, Atlanta Airport also plays a crucial role in cargo transportation, serving as a major logistics hub, and handling a substantial amount of freight, connecting businesses and consumers across the globe.
Comparing Quarter 1 (Q1) Passenger Statistics at Atlanta Airport
Atlanta Airport in Georgia, USA, has seen significant passenger statistics fluctuations over the past few years. Let's break down the data and analyze the trends. The data shows a fluctuating trend in Q1 passenger numbers at Atlanta Airport over the last five years.
In 2020, there was a significant decrease of 18.31% compared to the previous year due to the COVID-19 pandemic and associated travel restrictions. This decline continued into 2021 with a further decrease of 46.41%, indicating the ongoing impact of the pandemic on air travel.
However, there was a notable recovery in 2022, with an increase of 81.49% compared to the previous year, suggesting a rebound in passenger numbers as travel restrictions eased.
This positive trend continued into Q1 2023, with a 15.77% increase compared to the same quarter of the previous year. Despite these fluctuations, when comparing Q1 2019 and Q1 2023, passenger numbers still show an overall decrease of 8.01%.
Moving on to Atlanta Airport's passenger trends for 2022 and the past four years.
Analyzing these numbers, we observe a significant increase of 3.16% in passenger numbers from 2018 to 2019. However, the impact of the pandemic is evident in 2020, with a sharp decline of 61.58% compared to the previous year. The airport experienced a strong recovery in 2021, with a substantial increase of 78.37%, indicating a rebound in air travel as restrictions eased.
In 2022, there was a further positive trend, with a 23.78% increase compared to the previous year, reaching 45,372,311 passengers. These statistics portray a volatile period for Atlanta Airport, largely influenced by the COVID-19 pandemic and associated travel restrictions.
The airport saw a steep decline in passenger numbers in 2020, followed by a notable recovery in subsequent years. However, when comparing Q1 2019 and Q1 2023, passenger numbers still decrease, emphasizing the aviation industry's ongoing challenges.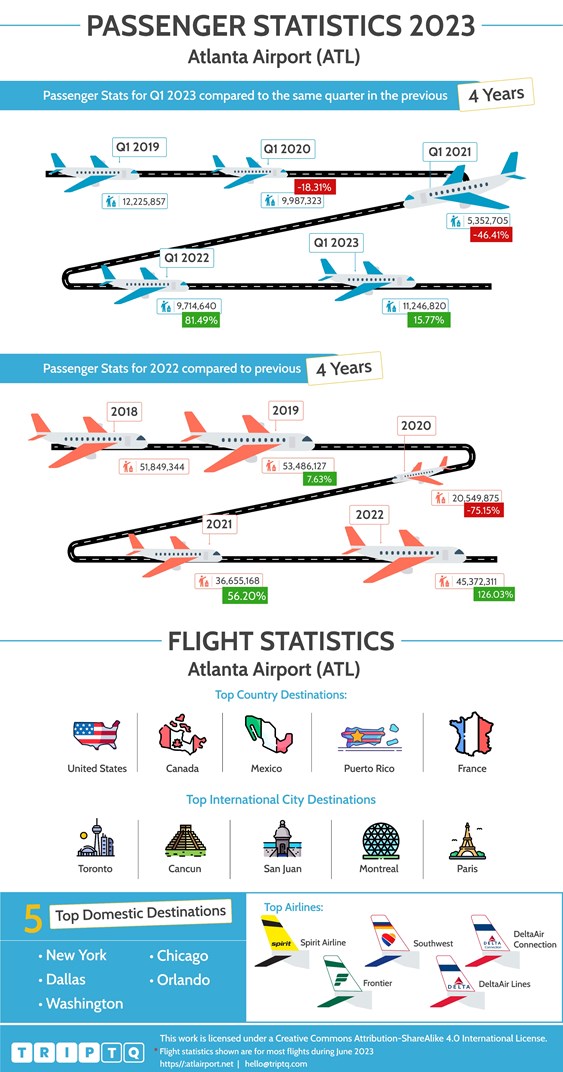 This work is licensed under a
Creative Commons Attribution 4.0 International License
.
View Full Size
Analysis of Flight Statistics and Trends for July 2023
In July 2023, Atlanta Airport in Georgia, USA, witnessed many passengers traveling domestically and internationally. The top countries passengers traveled to from Atlanta Airport were the United States, Canada, Mexico, Puerto Rico, and the United Kingdom.
Among the international destinations, Toronto, Cancun, San Juan, Montreal, and Paris topped the list, indicating a diverse range of travel choices for passengers. These cities likely drew in travelers for various reasons such as business, tourism, or personal visits.
Regarding domestic travel from Atlanta Airport, the top destinations were New York, Dallas, Chicago, Washington, and Orlando. These cities are major hubs and attract many travelers for various purposes, like business, leisure, or family visits.
The most prominent airline carriers serving Atlanta Airport in July 2023 were Delta Air Lines, Southwest Airlines, Delta Connection, Spirit Airlines, and Frontier. These airlines offer travelers a wide range of options in terms of routes, prices, and services, ensuring that passengers have flexibility and convenience when planning their trips.
Atlanta Airport experienced a bustling month in July 2023, with passengers traveling to various national and international destinations, facilitated by a strong network of airlines serving the airport.
Analyzing Passenger Trends: Quarter-to-Quarter Comparison
According to the provided passenger statistics data for Atlanta Airport in Georgia, USA, the analysis focuses on the Quarter-to-Quarter comparison between Q1 2019 and Q1 2023.
The data suggests a decline in passenger numbers from Q1 2019 to Q1 2023, with a decrease of 8.01%. However, there has been significant growth since the lowest point in Q1 2021, indicating a recovery in passenger traffic.
In Q1 2019, the total number of passengers at Atlanta Airport was 12,225,857. However, in Q1 2023, the number decreased to 11,246,820. This represents a difference of -8.01% between the two quarters. The highest previous quarter recorded was Q1 2019, with 12,225,857 passengers.
Comparing this with the latest quarter, there is a decline of -8.01%. Similarly, the highest matching quarter is Q1 2019, with the same number of passengers, 12,225,857. This indicates a decline of -8.01% compared to the latest quarter.
On the other hand, the lowest previous quarter occurred in Q1 2021, with 5,352,705 passengers. This means the latest quarter saw an increase of 110.11% compared to Q1 2021.
The lowest matching quarter is also Q1 2021, with 5,352,705 passengers. The latest quarter demonstrates a growth rate of 110.11% when compared to Q1 2021.
Are you a travel publisher and would like this information for your site/blog/publication?
Contact us on this form to request Atlanta Airport Statistics (Statistics, data and infographics are available for a wide range of airports worldwide - please tell us your requirements using the form)
UNBEATABLE VALUE CAR RENTAL

FREE
Amendments,
FREE
Cancellations,
NO
card fees!

airport_shuttle Need Airport Transfers?
Useful Information about Atlanta Airport